Why Supportive Housing Is Needed
Research shows that the lack of access to housing is one of the primary challenges to successful reintegration following involvement with the criminal-justice system. Finding appropriate and affordable housing is a constant challenge for people returning to the community.
When considered for release, individuals are expected to establish a viable plan that includes housing. The uncertainty of being approved for release can be extremely disconcerting. There is also always the question of whether the housing program has capacity to provide a space on very short notice and with little preparation time.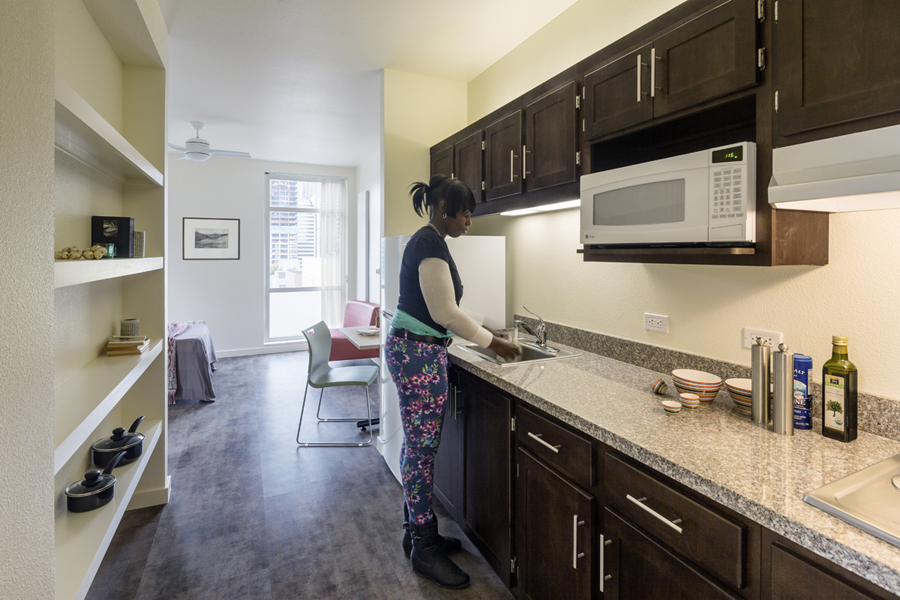 The main driver for the Rebound Institute's housing program is to provide residents with independence while supporting personal growth and fostering a sense of community. Initially, our supportive-housing model will provide a foundation and launch for 20 residents at any one time, with the expectation that the number of residents will increase. Housing will be offered year-round, ideally in a 24-month cycle, which is the time it normally takes to earn an associate's or complete a bachelor's degree as a transfer student.
The 20-unit housing component will provide residents a simple and beautiful living space, and social and academic services shared with the Institute. With an average of 360 sf. per studio apartment, the Institute's residential area will feature a community room, library and study area, fitness room and shared use of the Institute's teaching kitchen.
A landscaped central courtyard situated between the housing and the Institute's other components will offer visual access to nature and sunlight, and allow residents to gather outside and away from the street.
The Rebound Institute is partnering with Phatt Chance Community Services, which for more than 14 years has provided transitional-housing services to individuals returning to the community after incarceration, including many Project Rebound graduates. In the Phatt Chance residential experience, they achieve their potential and meaningful prospects for scholarship, professional careers and successful reintegration.
Residents will be as independent as possible, responsible for the upkeep of their individual living area and shared facilities. They will establish individualized house agreements specifically tailored to them, rather than following a generic set of rules.
Residents will be free to make the necessary arrangements to work and attend classes. Moreover, they will have ample study space, reliable Internet and computer access.
We will have supportive staff on site, including a live-in "go-to" person 24/7. This supportive environment will provide positive role models who've experienced successfully transitioning back into community life, are thriving, and will teach by example.
Read more about the space needs for our housing.